The 240 Litre Wheelie Bin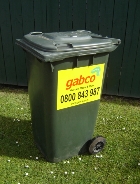 The Bin Benefits:
Very convenient and tidy and you can wheel it around your property to wherever you are working
Saves you time, money & tip hassles
It has a lid that reduces odors of rotting organic material
The lid almost eliminates pests, e.g. flies around your green waste
Gabco's Garden Bin Service - Saves You Time, Money & Hassle:
You fill it, we call to empty it
Payment- We email or post an invoice and payment can be made via online banking, Direct Debit or by cheque.
Collection can be postponed (max 2 skips per year)
You choose a regular collection cycle to suit your needs, options 4 or 8 weekly
Casual collections available- Phone or email when bin is ready to be emptied, price is $25 per collection (minimum of 3 collections per year applies).
Gabco's Introductory Offer (New Customers Only):
Please click on order to see our special offers
Why Not Refer Your Neighbour?
Introduce a neighbor to Gabco Garden Service and receive a free collection!
What Goes In Your Bin?
flax, palm and bamboo by special arrangement
leaves
branches (no bigger than 100 mm in diameter)
foliage, greenery
plant roots
weeds
lawn clippings
What Can't Be Put In Your Bin?

inorganic materials, e.g.:
No plastics
No paper
No metal
No stones
No animals
No pet litter
No hot ashes
No food scraps
No clothes
No junk
No dirt
No clay